SketchUp: Subscription Server Response is Invalid
We have recently seen some users experiencing the 'subscription server response is invalid' error when trying to use various different versions of SketchUp / LayOut. This error is known to affect both SketchUp 2021 and 2020, with the possibility of older versions experiencing it as well.

If you see this error, please sign out of your Trimble account within the software, and sign back in again.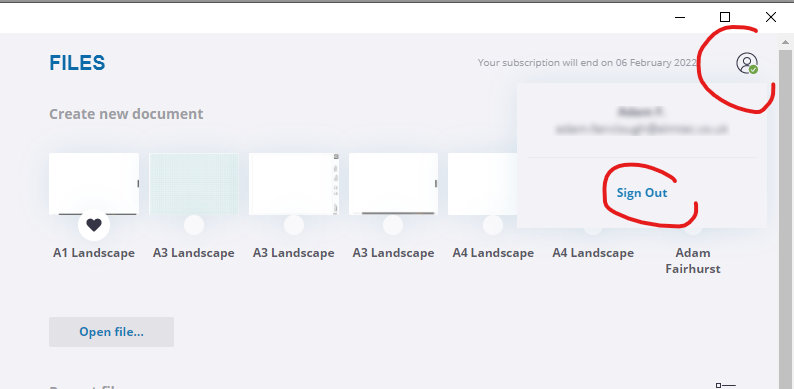 This should reset the licence and remove the error.

Related Articles

Resetting SketchUp Activations

If you are logging in to SketchUp and see 'You are using SketchUp on too many machines', read on to see how to fix this. When you see the message above, click 'Manage Activations'. You can also access this through your Trimble Account: ...

Activating Your SketchUp Pro Subscription

1. Creating Your Account Once your SketchUp Pro Subscription order has been processed, you will receive an email containing details of your licence, as well as a link to the account management portal. Click the account management portal link, and you ...

Can I Transfer SketchUp Between Mac and Windows?

If you work in an environment that requires SketchUp to run on both Windows and Mac machines, one license per user is all you need, regardless of what computer you use. There is no need to buy a specific Mac or Windows version. With SketchUp, you now ...

Cannot Reset Trimble (SketchUp) Password

There are a few things you can try to get the Trimble emails through to reset your password. Firstly: Confirm it has not gone to your spam Check you don't have an email from 'noreply_identity@trimblepaas.com' Next: Add SketchUp to your safe senders ...

Work Remotely: SketchUp

If you need to work from home, your options for SketchUp are: Sign in with your online account - You can download and install SketchUp to your temporary computer and sign in as normal. If you have already used all your available activations, you may ...