Signing Out of SketchUp to Reset
If you need to re-sign in to SketchUp for any reason, see the steps below.

1. Open SketchUp and Sign Out. To do this, click the account icon in the top-right, then 'Sign Out' from the menu that appears.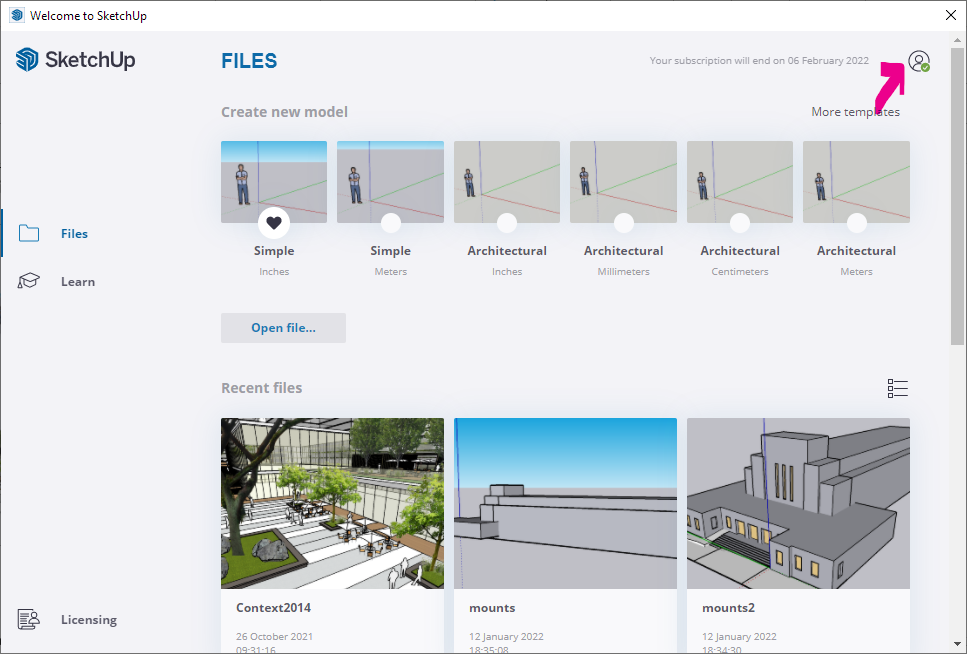 You can also do this by going to 'Help' > 'Sign Out'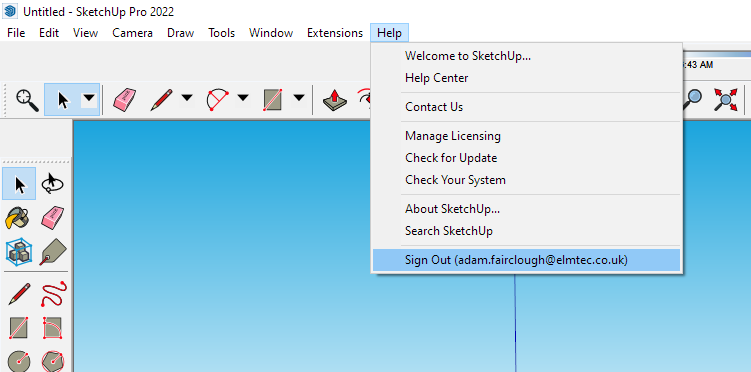 2. Once signed out, close SketchUp completely. If you're on Mac, you may need to right-click any SketchUp icons on your dock/taskbar and choose 'Force Quit'.

3. Open SketchUp and click the 'Sign In' button.

4. Enter your username and password when prompted, and you should be back to using SketchUp as normal.

If you have tried the above and still cannot access SketchUp...
If errors persist, you can completely reset the sign in state by deleting the ​​login_session.dat file.
For Mac users, locate the login_session.dat file in your Library folder. (The path for this file should be Library/ApplicationSupport/SketchUp[Version Year]/login_session.dat)



For Windows users the file is located in C:\Users\*USERNAME*\AppData\Roaming\SketchUp\SketchUp VERSION\SketchUp




You can quickly get to the folder with all versions by pasting %appdata%/sketchup into an file explorer address bar



Related Articles

Cannot Reset Trimble (SketchUp) Password

There are a few things you can try to get the Trimble emails through to reset your password. Firstly: Confirm it has not gone to your spam Check you don't have an email from 'noreply_identity@trimblepaas.com' Next: Add SketchUp to your safe senders ...

Can I Transfer SketchUp Between Mac and Windows?

If you work in an environment that requires SketchUp to run on both Windows and Mac machines, one license per user is all you need, regardless of what computer you use. There is no need to buy a specific Mac or Windows version. With SketchUp, you now ...

SketchUp: Subscription Server Response is Invalid

We have recently seen some users experiencing the 'subscription server response is invalid' error when trying to use various different versions of SketchUp / LayOut. This error is known to affect both SketchUp 2021 and 2020, with the possibility of ...

SketchUp Pro Download Links

SketchUp Pro 2020 Mac Windows SketchUp Pro 2019 Mac Windows SketchUp Pro 2018 Mac Windows SketchUp Pro 2017 Mac Windows SketchUp Pro 2016 Mac Windows

Upgrading SketchUp Network License to SketchUp Pro 2019

If you are a SketchUp Pro 2018 Network License user with an active Maintenance & Support plan, your license will be automatically upgraded to SketchUp 2019. Please see below for the process your license will go through: FIRSTLY - Your SketchUp Pro ...